2011 Nissan 370Z Introduction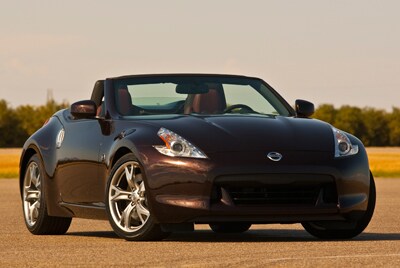 The Nissan 370Z is a brilliant sports car with a strong performance-value ratio. The 2011 370Z comes in Coupe and Roadster versions, with styling that adheres to tradition and history.
The design of the 370Z Coupe is modern, driven by aerodynamics, but the sweeping rear quarter window harkens back to the 1970 Datsun 240Z, the car that started it all. The 370Z Coupe uses a hood, doors and hatch made of aluminum, lowering weight.
The 370Z Roadster with its cloth top has a natural shape and looks good in black. The power top is well-insulated with a good headliner, and it raises and lowers without a manual latch.
A racy 370Z Nismo coupe, a product of Nissan's NISMO performance division, boasts more horsepower, a stiffer suspension, bigger brakes and aerodynamic modifications.
The 3.7-liter engine loves to rev and produces a unique sound and, with variable valves and four camshafts, generates 332 horsepower and 270 pound-feet of torque at 5200 rpm, but much of its power is available at lower rpm. The Z accelerates from 0 to 60 in a quick 5.2 seconds.
Cornering is supremely tight, on a short 100-inch wheelbase, with the rotational pivot point in the chassis in its ideal position of balance, right under the driver's seat. The rigid chassis results in responsive handling, even on uneven pavement. It steers with precision and turns in decisively. It changes directions dynamically. And there are no worries about the brakes not bringing you down.
In manual mode, the optional 7-speed automatic shifts quickly. Drivers can use the paddles or lever. The shifts feel direct, like a manual transmission, thanks to what Nissan calls torque converter lock-up logic. With the 6-speed manual transmission, heel-and-toe downshifting easy. The clutch, gearbox and pedals work well together. A computer-controlled feature called SynchroRev Match will blip throttle for downshifts when you don't do it manually.
The interior is attractive and comfortable. The driver's seat is designed to keep the driver in place. The black fabric that comes standard looks and feels sporty while the optional perforated leather is beautiful. There's also a synthetic suede. The instrument panel moves with the adjustable steering column, while the steering wheel spokes are designed to provide a clear view. The gauges are big and clear, white on black with orange needles.
Cargo space is modest. The rear hatch provides easy access to 6.9 cubic feet of cargo space, far less than the 22 cubic feet in the Chevrolet Corvette. The Roadster's trunk has only 4.2 cubic feet of space, about enough for a couple of duffle bags.
Now in its sixth generation, the Z was last redesigned for the 2009 model year. The sixth-generation Roadster was launched for 2010.