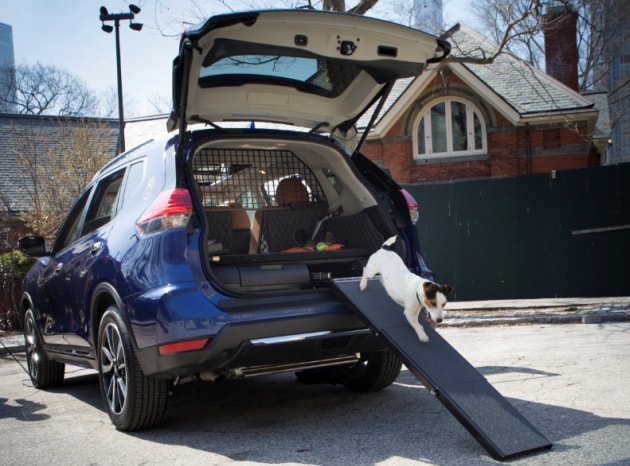 At the 2017 New York International Auto Show, Nissan displayed a concept of the ultimate pet friendly vehicle. The "Rogue Dogue" is a Nissan Rogue outfitted with the most desirable features as voted on by 400 dog owners. Among those polled, 83 percent said they value the safety of their pet just as much as they value their own safety, to which Nissan responded.
Made for Four-Legged Friends
The most important features as communicated by the survey respondents were a clip-in harness hook, a slide-away ramp, and no-spill food and water dispensers. Nissan equipped all of these onto the Rogue Dogue, along with other features such as a secured, removable dog bed, a dog shower with a 10 gallon water reserve, a dog drying system, a side-mounted plastic bag dispenser, a second-row dog hammock, easy to clean cargo upholstery and many more dog-friendly features.
Another one of the most notable amenities is a rear-facing side-view camera, which sends captured video of your dog's road trip experience and saves it to a hard drive for later viewing. Your dog will become an integral part of your recorded memories on a car trip.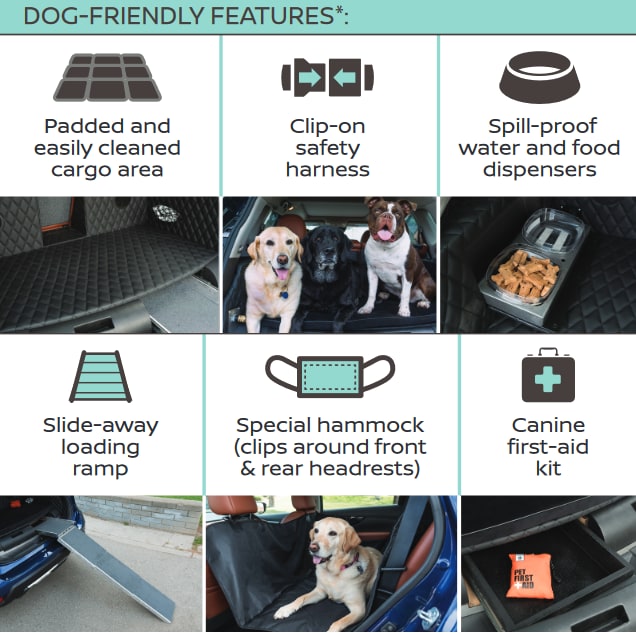 Unavailable Now, but Look to the Future
While these features are not currently available on the Nissan Rogue, the door is open for the future.
According to Dennis McCarthy of Vehicle Effects, who worked with Nissan on this project, "Everything that we built into the Rogue Dogue project is actually very possible to add to a production Rogue."
Soon, you may be able to own a car that is as much meant for humans as it is for their four-legged passengers. In a car equipped like the Rogue Dogue, all of a car's passengers both furry and not, can cruise down the road in comfort.
Another interesting result from the survey that led to the creation of the Rogue Dogue is that most of the dog owners said available features that would accommodate their pet would affect their choice of which car to buy. The Rogue Dogue could be the perfect option one day.
*Project Vehicle shown. See an actual production vehicle at Cerritos Nissan before purchase. Project Vehicle accessories shown. Not available for purchase.