Salient Nissan 370Z Specifications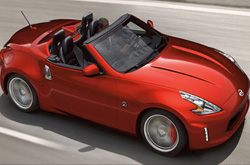 When you compare Nissan's most current 370Z model to the 2014 Chevrolet Camaro, Dodge Challenger, Ford Mustang and the Hyundai Genesis Coupe, you'll realize that it out does the competition. CA shoppers will be thankful for the 370Z's leading-edge features and competitive pricing. You'll easily see it's a spectacular value when you compare its price to competing vehicles. Get more information - Look over our 370Z Quick List under this paragraph!
2014 Nissan 370Z MSRP: $29,990
2014 Nissan 370Z MPG: 18 city / 26 highway
2014 Nissan 370Z Doors: 2-door
2014 Nissan 370Z Cargo Space: 7 cubic feet
2014 Nissan 370Z 0-60 MPH in 5.1 seconds
2014 Nissan 370Z Body Style(s): Coupe
2014 Nissan 370Z Seats: 2 passengers
2014 Nissan 370Z Colors: Midnight Blue, Solid Red, Magnetic Black, etc...