The hot, humid weather is just around the corner, now is a great time to have your air conditioning system checked by a professional before you need it to survive the intense summer heat.
A well maintained A/C unit keeps you healthy. The cabin air filter under the hood of your Nissan collects bacteria, pollen, dirt, dust, and other harmful pollutants before they reach the dashboard vents that push out the air you breathe. Dirty filters can cause headaches and allergic reactions.
Why Should I Rely on a Professional to Fix My A/C?
The air conditioning unit in your Nissan requires advance knowledge of the system. There are lots of moving parts. Do you have air conditioning parts lying around your house? After you diagnose the problem, you would have to order parts, which could take several days. A technician will have all the parts you need on hand so you can get your A/C fixed quickly.
A/C units often run 220-240 volts of current. That amount of energy output can be enough to injure someone if not handled properly.
Your warranty could be risked if an A/C unit is not checked off by a certified technician.
What is The Black Death?

Have you heard of the "black death?" Before you ask, no it has nothing do with the black plague that killed many humans during the 14th century. However, "Black Death" is still dangerous. "Black Death" starts out in the compressor after refrigerant stops working. Refrigerant is a type of lubrication that prevents unnecessary friction inside the engine. Over time the compressor breaks down, and loose metal pieces get pushed through the rest of the A/C system. Sooner rather than later, the cold air is long gone. To avoid this, schedule an A/C test at our dealership.
Why is air coming out in short bursts?
We understand the pain associated with week airflow inside the cabin. There are several reasons why air might not be flowing freely. Main reasons for weak A/C:
Mold is trapped inside the evaporator core and is preventing the air from reaching the vents.
You have a loose hose.
Excessive strain on the vent fans that results in the fans not blowing air.
Seals must remain closed at all times. If a seal is opened, the whole system can break down.
Will I get an alert if my A/C is not functioning properly?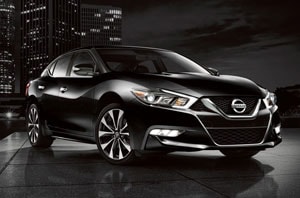 Unfortunately, there is no warning light for A/C problems. It is up to you, the driver, to recognize when your A/C is not functioning properly. Use your best judgment.There are many reasons why your A/C is not putting out cold air. Sometimes it requires a small fix, and other times a larger repair is needed. Since it is hard to diagnose A/C problems, it is in your best interest to take it to a Nissan dealer. Lack of cold air can be caused by the following:
Broken blower motor
Vacuum leak
Freon leak
Damaged condenser
Visit the service center at Cerritos Nissan today to quickly resolve any issues and make sure everything is running properly. Schedule your service on our easy online form.
Service Hours
Monday

7:00 am - 7:00 pm

Tuesday

7:00 am - 7:00 pm

Wednesday

7:00 am - 7:00 pm

Thursday

7:00 am - 7:00 pm

Friday

7:00 am - 7:00 pm

Saturday

7:00 am - 5:00 pm

Sunday

Closed