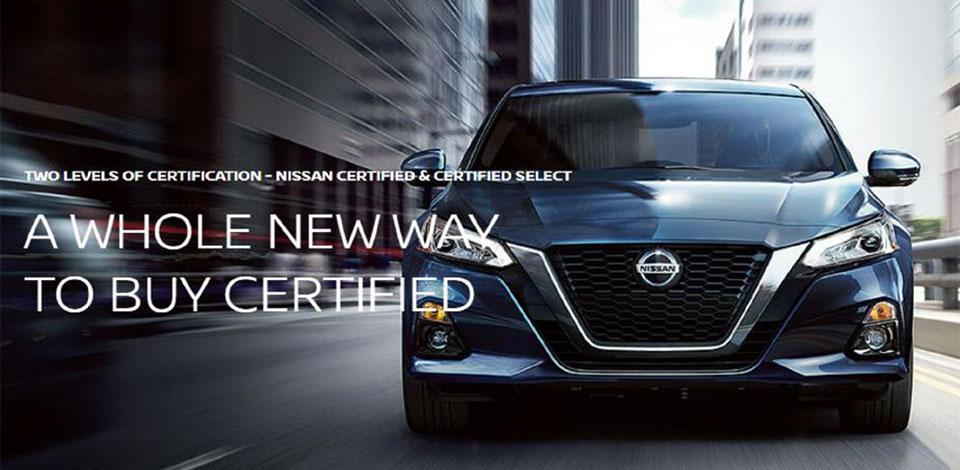 Nissan recently announced that they would be expanding their certified pre-owned program in order to offer more high-quality, used automobiles to their clientele. This expansion will include additional internet availability for convenient research and purchase options.
Nissan will be using their Certified Select program to expand its age and mileage eligibility as part of the CPO certification. This means you'll be able to access more affordable vehicle options while reaping the benefits of reliability thanks to a CPO accreditation. Also, non-Nissan automobiles will be included in the brand's certified pre-owned inventory.
The new specifications allow for vehicles up to 10 years old with as much as 100,000 miles to become certified as pre-owned through the Nissan brand. There will still be an extensive inspection process utilized to confirm the integrity of a vehicle. There are 84 different points that will be looked at. A 6-month/6,000-mile limited warranty along with roadside assistance will also be offered with one complimentary maintenance visit that must be scheduled within the first year of vehicle ownership.
The Nissan brand is acknowledging the shift in the automobile market that is putting greater attention on previously owned models with this change. As people look to save money but still want to focus on reliability and quality, Nissan is ready to accommodate. You can peruse these vehicles at your local dealership, but there is also the opportunity to complete the process of shopping and buying a vehicle from the comfort of your own home (using the internet). Vehicles can then be delivered to your driveway. The goal is to establish new customers while retaining old relationships within the Nissan brand.
Visit Our Dealership in Cerritos, CA.
The certification means that the car has been inspected and approved by Nissan. It comes with several benefits such as an extended warranty and roadside assistance. Plus, you can be sure that the car has been thoroughly checked for potential problems before you hit the road. Visit our dealership in Cerritos, CA.