The 2012 Nissan Murano CrossCabriolet from Cerritos Nissan is the symbol of devoted automotive craftsmanship built to fit the needs of CA Nissan shoppers. Cerritos Nissan is fired up to present the 4-door 2012 Nissan Murano CrossCabriolet Convertible SUV. As your Orange County Nissan dealer, we hope you find our 2012 Nissan Murano CrossCabriolet reviews and research materials beneficial in finding the details, specifications and information you've been waiting for. View Cerritos Nissan's lineup of 2012 Nissan Murano CrossCabriolet Convertible SUVs.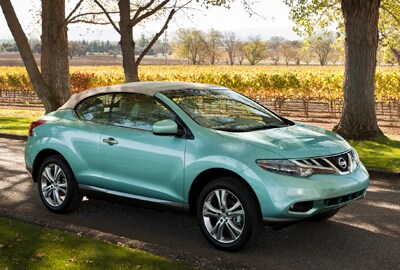 Cerritos Nissan presents the 2012 Nissan Murano CrossCabriolet Convertible SUV
Consumers find that when they compare the 2012 Nissan Murano CrossCabriolet to other makes like the Jeep Wrangler, Ford Flex and Buick Enclave, the Nissan Murano CrossCabriolet distinguishes itself as the most fun to drive. Take a look at our Quick List information below to see why!
The 2012 Nissan Murano CrossCabriolet has an starting MSRP of $46,390
The 2012 Nissan Murano CrossCabriolet gets 17 city / 22 highway MPG
The 2012 Nissan Murano CrossCabriolet goes from 0-60 MPH in 8 seconds
The 2012 Nissan Murano CrossCabriolet features 42.5 inches of legroom up front and 32.7 inches in back
The 2012 Nissan Murano CrossCabriolet features 40.1 inches of headroom in front and 338.7 inches in back
The 2012 Nissan Murano CrossCabriolet is 190.1 inches long, 74.5 inches wide and is 67 inches tall
The 2012 Nissan Murano CrossCabriolet weighs 4,438 pounds and has a turning radius of 19.7 feet
We know you'll fall for the Nissan Murano CrossCabriolet - visit Cerritos Nissan in Orange County today!
Part SUV, part sporty summertime convertible, the all-new 2012 Nissan Murano CrossCabriolet bridges the gap between top-down fun and traditional SUV utility. Behind the wheel, one can't help but conjure visions of warm, sandy beaches lined with palm trees or lazy sunset cruises down the strip in Malibu. The 2012 Nissan Murano CrossCabriolet is an absolute first in the automotive world: it's a convertible crossover SUV that has four roomy seats and plenty of trunk space for everyone. Perfect for families or working moms on the go, the Murano CrossCabriolet is in a class entirely its own. Other trucks and SUVs like the Jeep Wrangler, Ford Flex and Buick Enclave don't even come close to offering the same level of sport and versatile functionality as the Nissan Murano convertible. For just $46,390 you get the full package, while other equally priced vehicles provide only a fraction of what the Cross Cabriolet offers. Come and visit Cerritos Nissan today and see for yourself why the brand-new 2012 Nissan Murano Cross Cabriolet is the perfect vehicle choice for you, whether you live in Orange County or Malibu.
When the engineers at Nissan got together to discuss the CrossCabriolet, they wanted to create a vehicle that delivered all of the benefits of a convertible with the utility and storage capabilities of an SUV. The 2012 Nissan Murano CrossCabriolet was the result, specially engineered with a retractable top, standard all-wheel drive and plentiful passenger room. This one-of-a-kind crossbreed made sense. It fulfilled a previously unmet need in the automotive market, finally appeasing shoppers who desired a spacious drop-top vehicle. As an industry-first convertible crossover, the Nissan Murano Cross Cabriolet from Cerritos Nissan is tough competition for both compact SUVs and sporty convertible cars. The Murano elevates both of its body style platforms, overcoming the functional limitations of a convertible and significantly enhancing the fun and sportiness of a crossover. The best part: your passengers won't have to flip a coin to see who has to ride in the back seat. Unlike typical convertibles, the Murano offers plenty of room for front- and back-seat passengers.
The 2012 Nissan Murano CrossCabriolet is available in one fully loaded trim. It takes many cues from the Murano SUV's deluxe LE trim, but steps it up more than a few notches with additional luxury features and amenities. In Nissan Murano reviews, automotive experts consistently point out the surprising practicality of the CrossCabriolet. It offers spaciousness, open air fun and advanced telematics and entertainment features that Orange County Nissan drivers will love. You can find the Nissan Murano convertible at Cerritos Nissan in lovely colors like Caribbean Pearl, Glacier Pearl, Super Black and Merlot Metallic.
Visit our Orange County Nissan dealership to test drive the new Murano CrossCabriolet today. Even with the larger build of a compact SUV, the Nissan Murano convertible reviews well for its performance. The CrossCabriolet's retractable top isn't the only thing that gives this vehicle the look and feel of a convertible. With its tight handling and spirited ride, Car and Driver states that the "CrossCabriolet floats along as smoothly as Aladdin's magic rug." Equipped with a powerful 3.5-liter 24-valve DOHC V6, the 2012 Murano CrossCabriolet from Cerritos Nissan pumps out an impressive 265 horsepower and 248 pound-feet of torque. Its engine is paired with an Xtronic continuously variable transmission (CVT) which incorporates Adaptive Cruise Control (ASC) to improve responsiveness, performance and vehicle stability.
The 2012 Nissan Murano Cross Cabriolet was designed with a boutique feel. Its owners can truly customize the vehicle by selecting their own set of color combinations for the interior, exterior and convertible top. Orange County car shoppers can choose colors like Cashmere, Black and Camel for the interior, and each of these tones complements interior accents like wood-tone trim and half-matte chromed trim finish. On the inside, Cerritos Nissan shoppers will also find a standard Nissan Hard-Drive Navigation System, a Bose AM/FM/CD audio system, Nissan Intelligent Key with Push Button Ignition, a power-heated driver's seat with memory functions and much, much more.
No matter what part of the country you live in, the 2012 Nissan Murano CrossCabriolet will get you where you need to go in style. Cruise down a beach side highway with the top down or drive up a snowy hill to your favorite ski lodge. The Nissan Murano convertible's all wheel drive is great in snowy or rainy weather, its retractable top is a delight on warm, sunny days and its powerful drivetrain makes it incredibly fun to drive. We could go on but you probably get the picture. We are excited to present this new compact SUV convertible at Cerritos Nissan. Learn more about the 2012 Nissan Murano Cross Cabriolet. When you visit our Orange County Nissan dealership, one of our friendly representatives will answer all of your questions about this new, one-of-a-kind vehicle.
Driving a Nissan Murano CrossCabriolet from Cerritos Nissan makes CA driving commodious, safe and pleasurable - all at the same time! Here are some more details:
[Dealership Name] has a stupendous assortment of 2012 Nissan Murano CrossCabriolet Convertible SUVs with standard Nissan safety features like anti-lock brakes, traction control, driver airbags, passenger airbags, side airbags and more, making the 2012 Murano CrossCabriolet an NHTSA and IIHS favorite. In addition to these safety features, the 2012 Nissan Murano CrossCabriolet can sufficiently seat up to 4 passengers. Trunk space with Nissan is never a worry; the Murano CrossCabriolet can hold up to 31.6 cubic feet of your luggage, ensuring that your next journey is hassle-free. To top it all off, the 2012 Nissan Murano CrossCabriolet includes an extraordinary list of comfort and convenience accessories like powered windows, mirrors, doors and locks, climate control, AC and optional hands-free phone and navigation systems. Take a test drive at Cerritos Nissan today and experience the Nissan Murano CrossCabriolet for yourself.
The Nissan manufacturer's warranty covers the Murano CrossCabriolet for manufacturing defects and has a 3 years / 36,000 miles Nissan warranty. Nissan has worked for years to minimize its environmental impact; as a result, the Murano CrossCabriolet's carbon footprint is minimal. Not surprisingly, with all of the Murano CrossCabriolet's advantages, this incredible Nissan Convertible SUV retains a high percentage of its value at 3 years and 36,000 miles, which makes the Nissan Murano CrossCabriolet a great used buy! When seeking a safe, stylish and economical Convertible SUV, [Dealership City] Nissan shoppers should head to Cerritos Nissan, located at 18707 Studebaker Rd in Cerritos, CA
Nissan Murano CrossCabriolet service information for Orange County
Nissan Murano CrossCabriolet lessees and owners in Orange County have determined that Cerritos Nissan at 18707 Studebaker Rd in Cerritos is the very best choice for Murano CrossCabriolet warranty work, regular maintenance, inspections and mechanical repairs. At Cerritos Nissan, Certified Nissan Technicians trained in the very latest corrective and diagnostic techniques work for one thing - your approval. Whether it's time for your Nissan to have an oil change, tire rotation, or simply undergo Murano CrossCabriolet Scheduled Maintenance, Cerritos Nissan is your first choice. Our Certified Nissan Technicians also complete specialty jobs and repairs. Cerritos Nissan is the smartest choice in Orange County for speedy, amiable and professional Nissan Service of all kinds.
If you'd like to make an appointment to have your Murano CrossCabriolet serviced, click the link or just give us a call. See you soon!