Los Angeles Dealer Researching the New Cube Cube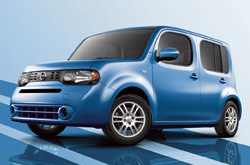 Most leading brands in today's market have an eccentric, oddball vehicle that exudes personality and puts fun at the forefront of its platform, attracting buyers from different walks of life. For Nissan, the Cube is exactly that vehicle. Its boxy shape and asymmetrical styling give it a presence that can't be ignored. Inside, this theme is taken to another level of innovation with quirky attributes and designs that are even more unconventional than the exterior layout. In addition to its outlandish charisma, the Cube shows off a few key features for 2014, including comfortable seating arrangements, great amenities and ample safety standards. These outstanding elements, along with the Cube's quirky design, is what makes the car a top a leader in its segment. To learn more about the 2014 Nissan Cube in Los Angeles, read our brief summary below; then scroll down for further details.
From the outside, the Nissan Cube is shapely, donning rounded curves and bubble-like wheel wells, which complement a bulging vertical grille. Its bold design is brought out even further within the cabin, which sports a rippled roof and a fun shag rug accessory on the dashboard ?" noted by early 2014 Nissan Cube reviews. However, lounged-styled seating remains a highlight inside the car, providing room for up to five passengers and offering optimal comfort that rivals models in larger segments. Rear-seating also reclines to create additional relaxation and slides to produce extra cargo space.
As in all Nissan models, safety is a top priority and the 2014 Cube is no exception. The mini car comes complete with a strong group of functions made to protect occupants at all times. Front and side airbags, along with active headrests, secure passengers during the event of a collision, while anti-lock brakes, brake assist and electronic stability control help prevent accidents. Topped off with high ratings from the Insurance Institute for Highway Safety, the 2014 Nissan Cube is secure, making it an ideal choice for buyers who want a car that's both unique and reliable.