Los Angeles Nissan Dealership Reviews the New Juke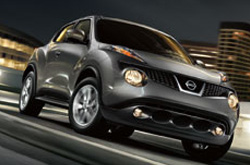 Shaped like a dune buggy of sorts, the Nissan Juke is innovation at its finest. The SUV bears no resemblance to any other vehicle on the road with its high stance, bulging curves and hood-mounted headlamps, which is exactly why it's become a hit among buyers. Aside from its appearance, the Juke offers remarkable handling and comes with a sufficient powertrain, equipped to handle regular commutes. Brand new 2014 models feature an exceptional list of amenities, and in an effort to develop the nameplate, the Juke NISMO receives over 100 revised components for the new year. Two fresh color additions round out the SUV's enhancements and improve the overall look for 2014.
The Nissan Juke, offered in S, SV, SL and Juke NISMO variants, showcases a great collection of features to satisfy its loyal fanbase. Available options such as satellite radio, a moonroof, push-button start, leather-wrapped steering, navigation and a rearview camera appease buyers' taste for luxury. Nissan's I-CON system also helps drivers control various aspects of the vehicle, including throttle response and steering, which can improve factors such as fuel economy. Additionally, two paint options join the Juke's color palette for 2014: Red Alert and Bordeaux Black.
Outfitted with a 1.6L turbocharged four-cylinder engine, exerting 188 horsepower, the 2014 Nissan Juke can confidently zip through the city with little trouble. It can be paired with either a manual or continuously variable transmission and is recommended with front-wheel-drive models, which increase handling. For extra power, Los Angeles shoppers may want to upgrade to the Juke NISMO, praised by many 2014 Nissan Juke reviews. Delivering 197 horsepower, the NISMO's 1.6L DIG turbo engine is specially tuned for optimal performance, and when combined with the Juke's newly-revised components, it takes the SUV to new heights.
Read on below to learn more about the 2014 Nissan Juke in Los Angeles.