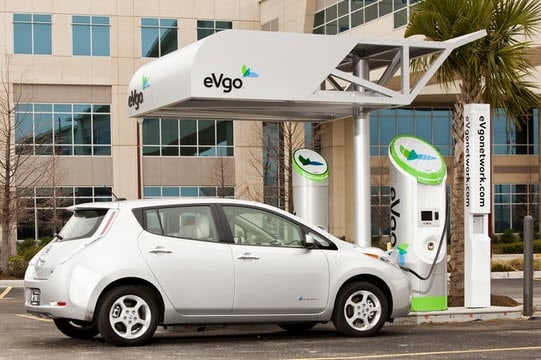 If you love to take road trips, but have always feared that an electric car might leave you stranded, it's time to change your perspective. Thanks to EVgo's network of charging stations, electricity can power your explorations!
Nissan has teamed up with BMW once again to expand the number of EVgo DC Fast chargers available across the U.S., so it's easier than ever to travel long distances in a Nissan LEAF or any other electric car. EVgo's 50kW charging stations are installed in 33 states around the nation, including California, Arizona, Texas, Nevada, Colorado, Oregon, Washington and other locales. Just check out the chart below!
Thanks to Nissan's partnership, an additional 174 charging stations are now available for public use, plus more than 50 new charging stations will be installed over the course of 2017.
EVgo's dual-port DC Fast chargers can power a car up to 80 percent in only 25-30 minutes, compared to longer charge up times at Level 2 (240V) chargers, which are the most commonly found. With support from automakers like Nissan, the availability of fast chargers is growing, and it will continue to grow as more shoppers jump on the EV bandwagon and as the government enforces stricter efficiency laws.
Before going on a long trip, Nissan LEAF owners can look up EVgo chargers using the EZ-Charge smartphone app for iPhone and Android users, and then map a course to ensure proper charging when needed.
"Nissan continues as a leader in building accessible infrastructure to benefit Nissan LEAF drivers as well as all EV owners. Infrastructure for all is a key strategic priority for us as we continue expanding the network of dual-port quick chargers across the country," said JeSean Hopkins, senior manager, Nissan EV Infrastructure Strategy & Business Development. "We look forward to ongoing teamwork and the continued build-out of public quick-charge stations."