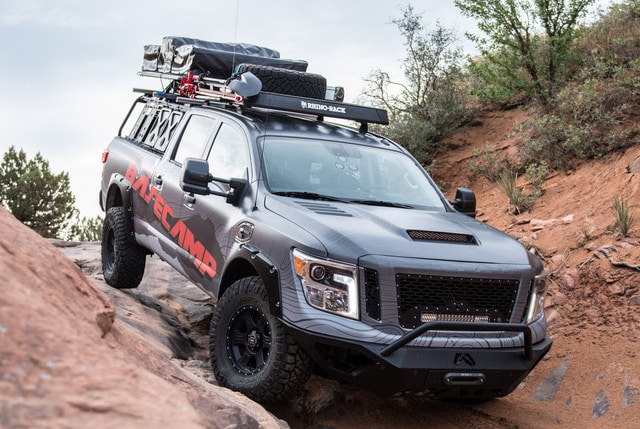 Providing an outdoor experience with no limits, the rugged TITAN XD PRO-4X Project Basecamp is equipped with a long list of accessories that make the most of exploring. From a Cummins V8 turbo-diesel engine to a lift kit, stargazer tent, 35-inch tires and more, it's ready for any adventure. See it in the video now!
This special edition of the Nissan TITAN comes with over 60 aftermarket parts, which you can see in the infographic below. Interested in modifying your own TITAN truck? Contact us to order parts and accessories!
The TITAN XD PRO-4X Project Basecamp was first revealed at Arizona's Overland Expo 2017 West and will make additional appearances at various events throughout the summer.
"Overlanding is an exciting form of outdoor adventuring, taking participants into sometimes extreme terrain and climate conditions. We're using the Project Basecamp to showcase the TITAN XD PRO-4X model's potential as the perfect platform for truck owners thinking of taking their adventures to the next level," said Fred Diaz, division vice president and general manager, North America Trucks and Light Commercial Vehicles, Nissan North America, Inc.