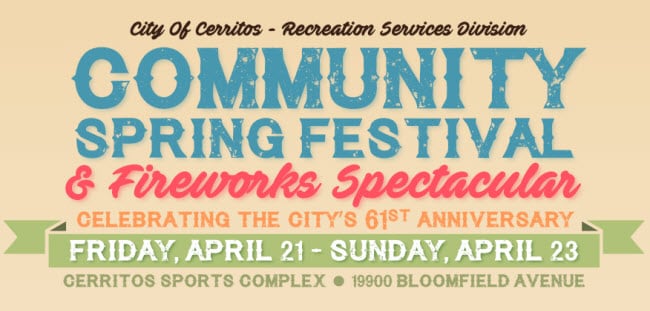 Price
Free entry
Dates & Hours
Friday, April 22 - 4:30 p.m. to 10 p.m.
Saturday, April 23 - Noon to 10 p.m.
Sunday, April 24 - Noon to 9 p.m.
Spring into the new season at the Cerritos Spring Festival & Fireworks Spectacular. The family-friendly three-day event promises tons of entertainment, including an explosive light show that'll color the sky!
On April 22, the event kicks off with a formal celebration of the city's 61st birthday. The ceremony starts at 4:30 p.m. and is followed by a party that culminates with a luminous fireworks show at 8:30 p.m. In between the ceremony and fireworks, visitors are treated to main stage performances and other entertainment.
On Saturday and Sunday, April 23-24, the fun starts at noon. Several live performances are on the schedule and visitors can get an adrenaline surge at the carnival area, where there are lots of rides and games to conquer. When visitors work up an appetite, a wide spectrum of options will be available from gourmet food trucks and other vendors.
If you don't want to miss out, clear your calendars for the Cerritos Spring Festival & Fireworks Spectacular and invite all of your friends. Celebrate the City of Cerritos' birthday and the turn of the season, as we officially step out of winter into springtime!