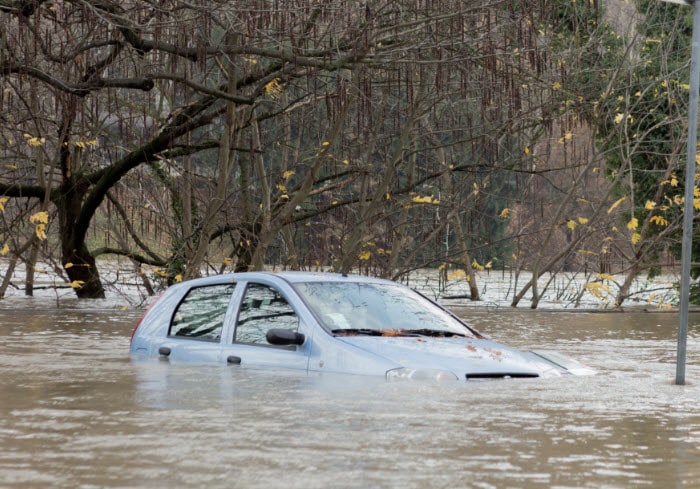 Even if you don't reside in a flood-prone city, the fact is that many flood-damaged cars are shipped out of the area of impact, landing in other states where they may be sold without proper salvage or flood titles. This is why it's imperative to know how to tell if a car has sustained water damage when shopping for pre-owned vehicles.
Although the Department of Justice operates a National Motor Vehicle Title Information System (NMVTIS), there are some states that don't check the system before retitling out-of-state cars, making it easy for some dishonest vehicle sellers to title wash. There are other ways for cars to avoid gaining flood and salvage titles as well. Learn more below and see tips that'll teach you how to detect if a car is flood-damaged.
What States Don't Transfer Salvage/Flood Titles?
As of this writing, there are six states that provide information to NMVTIS, but that DO NOT check the system before retitling cars that come from other jurisdictions. These six states include California, Idaho, Oklahoma, North Carolina, Maryland and Massachusetts. There are also a few other states currently in development with plans to fully participate in the program.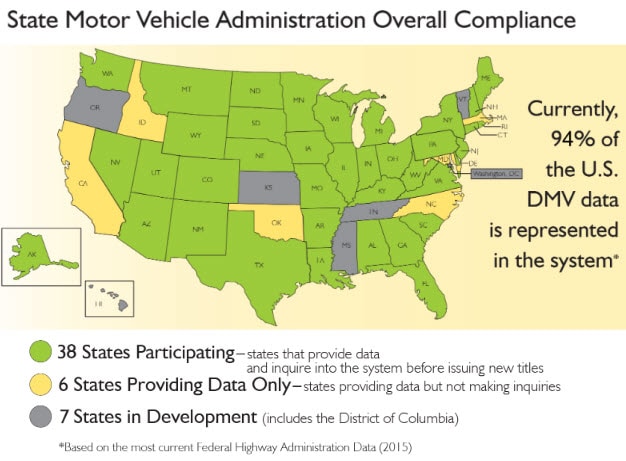 What Is Title Washing?
Unsafe cars are given "brands" or titles such as junk, salvage, lemon and flood. When a car title is washed, it means that its negative branding has been removed, or washed clean. For example, if a flood-damaged car is transferred from Florida to North Carolina, its flood title may not carry over. In some cases, dishonest sellers will move a car from state to state until its branding is washed clear.
"After Hurricane Katrina, authorities reported truckloads of flooded vehicles being taken out of Louisiana to other states as far away as the upper Midwest, where they were dried out, cleaned, and readied for sale to unsuspecting consumers in states that do not brand flood vehicles." – NMVTIS
There are ways to check a car's history and avoid dealing with title fraud. Find NMVTIS-approved data providers here. In addition, the NMVTIS suggests reaching out to your local representatives to inquire about why your state may not be checking into the system before issuing new titles.
How to Identify a Flood-Damaged Car
The interior may smell moldy or musty, or even heavily perfumed if the seller is attempting to hide something.
Seat upholstery may be brand-new, which is suspicious on a used car.
The electronics may not work properly. For example, the blinkers may not work or the radio may sound funny.
Carpets could have noticeable stains, or may appear to be of an off color or quality compared to other cabin upholstery.
The spare tire may have rust or residue from moisture.
Head- and taillights could appear foggy or even show a water line.
There may be clear signs of rust on screws, the area where the door meets the car (so open the doors!), the springs beneath the seats and other spots with exposed metal.
Use a mirror to check under the car and look for signs of rust and corrosion.
No. 1 Tip for Avoiding Buying a Flood-Damaged Car:
Check vehicle history reports and don't purchase cars from areas that have had recent hurricanes and floods. This may not protect you in every case, but it's strongly advised.
It's also critical that used car shoppers have their vehicles inspected by a qualified mechanic. Our auto repair shop in Los Angeles County performs used car checks for a low price. Even if you do not buy from us, our repair department is open to you for this service and it's highly recommended.
Is Buying a Flood-Damaged Car Always a Bad Idea?
It is legal to purchase a flood-damaged car and many are clearly disclosed with flood titles. Depending on the severity of the flooding, there's a chance that the car may be fine if thoroughly cleaned and reconditioned. However, it's highly recommended that your average shopper stay away from buying cars with salvage or flood titles. From airbag failure to electrical system malfunctions and eventual engine degradation, there are many issues that take time to appear and may cost you big one day.