Automakers constantly introduce new technology to the fold as a way of upgrading their vehicles and making them better. You have more options with great features than ever before, and while the learning curve might seem steep, it's really not. One of the newest and most convenient technologies that Nissan installs in its vehicles is known as NissanConnect. What do you need to do to set up and use NissanConnect?
You Need Three Things
First, you will need to have a smartphone with a data plan. This allows your phone to connect with the technology, but it will cost data to do it, so you will need to have a data plan. Second, you will need a Nissan vehicle because this feature is obviously not available outside Nissan. Finally, you will need to have NissanConnect included in your package when buying a vehicle. This technology lets drivers stay connected even while on the road because it reduces the risks of distraction.
Opening an Account
Next, before you can begin, you will need to download the NissanConnect app and open up an account. Once you have done this, you can connect with the NissanConnect feature inside your car. That's all that there is to the set up of this technology. You can set it up easily, and it's quite straightforward, but if you should encounter any problems, you can contact Cerritos Nissan.
What are some of the features included with NissanConnect that you can use? Some of the features that you can use include:
iHeartRadio
Sirius XM Radio
Pandora
What Can You Do with NissanConnect?
NissanConnect includes a built-in navigation system that you can use as needed. The most useful advantage of NissanConnect is how you can use it to stay connected even when you're on the road. You can use this software to send out pre-loaded text messages. You control the system through touch and voice. If you want to keep your hands free, you can simply use the hands-free feature and speak with your voice instead.
Great for Emergencies
This technology also includes a feature where you can connect to emergency services more quickly. You can call for emergency services to get help as needed, and you also have roadside assistance to help you if you break down. This app includes an automatic collision notification. You can do a hands-free voice call to speak with emergency services if the need arises. If the airbags deploy or they detect a collision, you will be forwarded to emergency services, which is a good feature because the sooner they respond, the better.
Ordering with Specific Features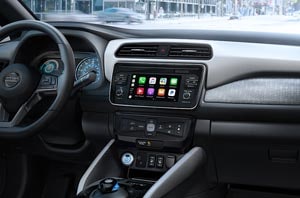 It depends on the needs, but NissanConnect can be ordered as a specific package to meet certain needs. For example, you can add specific digital apps that you prefer to use. There are three different packages. The NissanConnect Services is the basic package. If you choose the NissanConnect Services Premium package, you receive remote horn, remote engine start, valet curfew and speed alerts. Finally, the NissanConnect Services Premium Plus package will give you the best features like destination download, assisted search, journey planner and connected search.
Would you like to learn more about the NissanConnect and how it can help you on the road? If so, please
call or visit our dealership
where our friendly sales representatives are waiting for the opportunity to help you learn about NissanConnect or a new Nissan.