The 2012 Nissan Frontier from Cerritos Nissan is the perfect example of impassioned automotive craftsmanship built to fit the needs of CA Nissan buyers. Cerritos Nissan is excited to present the 4-door 2012 Nissan Frontier Compact Truck. As your Orange County Nissan dealer, we hope you find our 2012 Nissan Frontier reviews and research materials valuable in finding the details, specifications and information you've been hunting for. View Cerritos Nissan's lineup of 2012 Nissan Frontier Compact Trucks.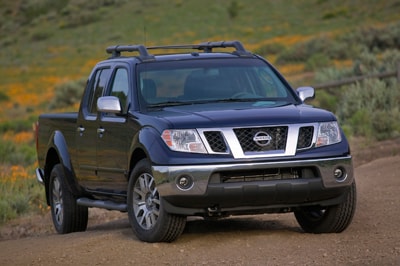 [Dealership Name] presents the 2012 Nissan Frontier Compact Truck
Buyers find that when they compare the 2012 Nissan Frontier to other makes like the Toyota Tacoma, Chevrolet Colorado, Honda Ridgeline and Dodge Dakota, the Nissan Frontier stands out as the most fun to drive. Check out our Quick List table below to see why!
The 2012 Nissan Frontier has an starting MSRP of $18,200
The 2012 Nissan Frontier gets 16 city / 20 highway MPG
The 2012 Nissan Frontier goes from 0-60 MPH in 7.4 seconds
The 2012 Nissan Frontier features 42.4 inches of legroom up front and 33.6 inches in back
The 2012 Nissan Frontier features 40 inches of headroom in front and 38.7 inches in back
The 2012 Nissan Frontier is 205.5 inches long, 72.8 inches wide and is 70.1 inches tall
The 2012 Nissan Frontier weighs 4228 pounds and has a turning radius of 43.6 feet
We know you'll love the Nissan Frontier - visit Cerritos Nissan in Orange County today!
Frontier is an apt moniker for Nissan's star compact truck. Behind the wheel of this brawny pickup, Cerritos drivers can explore the backcountry, crossing boundaries that normal vehicles can't. Cerritos Nissan has a terrific selection of these popular 2012 Nissan trucks for sale. Throughout the years, the Frontier has garnered many awards, so whether you buy used or new you'll be making a terrific investment. J.D. Power named the 2010 Nissan Frontier the Highest Ranked Midsize Pickup in Initial Quality. Following this, the 2011 Nissan Frontier was named Edmunds Top Recommended Compact Truck. In addition, several Nissan Frontier reviews place the pickup at the top of the compact truck segment. If you are in need of a vehicle that can endure backwoods adventuring or a work truck that can carry large loads, the 2012 Frontier is a terrific option over the Toyota Tacoma, Chevrolet Colorado, Honda Ridgeline and Dodge Dakota. Cerritos Nissan also has a large selection of used Nissan Frontier pickup trucks and a great collection of OEM Nissan truck parts. Visit our Orange County Nissan dealership today to browse our inventory.
You'll find the 2012 Nissan Frontier from Cerritos Nissan in new colors like Brilliant Silver, Metallic Blue and Lava Red. You can choose from several trims and two body style options. The King Cab comes in S, SV and PRO-4X trims. The Crew Cab includes these trims and adds a premium SL model for Orange County Nissan truck shoppers who desire a truck with a dose of luxury. The entry-level S comes with front bucket seats, sturdy 15-inch steel wheels and an available Preferred package that contains entertainment features like a four-speaker sound system with a CD player. When [Dealership City] shoppers step up to the SV, they'll get features like a slick chrome bumper, keyless entry, full power accessories and cruise control. The PRO-4X is the perfect off-roading machine, built with 16-inch alloy wheels with off-road tires, a locking rear differential and Bilstein off-road shocks. Lastly, the lavish SL offers comfort and convenience with roof racks, leather upholstery, heated power front seats, heated mirrors and more. Visit your premier Orange County Nissan dealership to learn more about each trim's unique set of features.
The 2012 Nissan Frontier from Cerritos Nissan is truly the foremost alpha-truck in its category, built on a rugged F-Alpha platform. It offers ample power for active lifestyles. Equipped with a 4.0-liter DOHC V6 engine, the Frontier provides terrific towing capacity and a high-performance ride. Its 261 horsepower V6 gets 281 pound-feet of torque and is specifically tuned for the unique demands of truck use. The engine includes a Continuously Variable Valve Timing Control System for enhanced efficiency. A 152-horsepower 2.5-liter DOHC inline 4-cylinder engine with 171 pound-feet of torque is available on select models. Orange County Nissan truck shoppers can choose from many transmission options including a five-speed automatic, six-speed manual or five-speed manual. Visit Cerritos Nissan and configure a Frontier truck with the perfect powertrain, drivetrain and interior features for your needs.
The 2012 Nissan Frontier has a dynamic exterior with colossal bumpers, an angled strut grille, stamped steel and large geometric fender flares. The exterior also features a standard locking removable tailgate, tinted front window, privacy glass in the rear and a hitch ball on the rear bumper. Come see the new 2012 Frontier at Cerritos Nissan today and take it for a test drive. As a foremost Orange County Nissan dealer, we offer one of the largest selections of new, used and Certified Pre-Owned vehicles in the area. Visit us to find the 2012 or 2011 Nissan Frontier, along with many other popular Nissan trucks.
Owning a Nissan Frontier from Cerritos Nissan makes CA driving easy, safe and enjoyable - all at the same time! Here's why:
Cerritos Nissan has a stupendous stock of 2012 Nissan Frontier Compact Trucks with standard Nissan safety features like anti-lock brakes, traction control, driver airbags, passenger airbags, side airbags and more, making the 2012 Frontier an NHTSA and IIHS favorite. In addition to these safety features, the 2012 Nissan Frontier can adequately seat up to 5 passengers. Trunk space with Nissan is never a worry; the Frontier can hold up to 87.7 cubic feet of your stuff, ensuring that your next excursion is hassle-free. To top it all off, the 2012 Nissan Frontier includes an incredible list of comfort and convenience accessories like powered windows, mirrors, doors and locks, climate control, AC and optional hands-free phone and navigation systems. Take a test drive at Cerritos Nissan today and experience the Nissan Frontier for yourself.
The Nissan manufacturer's warranty covers the Frontier for manufacturing defects and has a 3 years / 36,000 miles Nissan warranty. Nissan has worked for years to minimize its environmental impact; as a result, the Frontier's carbon footprint is minimal. Not surprisingly, with all of the Frontier's advantages, this reliable Nissan Compact Truck retains a high percentage of its value at 3 years and 36,000 miles, which makes the Nissan Frontier a great used buy! When seeking a safe, stylish and economical Compact Truck, Cerritos Nissan buyers should head to Cerritos Nissan, located at 18707 Studebaker Rd in Cerritos, [Dealership State]
Nissan Frontier service information for Orange County
Nissan Frontier lessees and owners in Orange County have discovered that [Dealership Name] at 18707 Studebaker Rd in Cerritos is the very best choice for Frontier warranty work, regular maintenance, inspections and mechanical repairs. At Cerritos Nissan, Certified Nissan Technicians trained in the very latest corrective and diagnostic techniques work for one thing - your complete satisfaction. Whether it's time for your Nissan to have an oil change, brake pad replacement, or simply undergo Frontier Scheduled Maintenance, Cerritos Nissan is your first choice. Our Certified Nissan Mechanics also complete specialty jobs and repairs. Cerritos Nissan is the smartest choice in Orange County for speedy, considerate and professional Nissan Service of all kinds.
If you'd like to make an appointment to have your Frontier serviced, click the link or just give us a call. Visit us today!