Read about 2013 Versa for the Los Angeles area
Cerritos Nissan is your trusted Los Angeles resource for reviews of the 2013 Nissan Versa. We are a chief Nissan dealer in Los Angeles, and it's our job to outfit you with Nissan reviews written by some of the finest automotive writers in the industry. Everything perspective car buyers need to make intelligent decisions is right here - each passage is filled with [helpful material and specs - all at your fingertips. Watch the video below or skip it to get the Versa review.
Watch a Video on the New Versa
Bullet List of Versa Specs & Features
When comparing the 2013 Nissan Versa against the 2013 Hyundai Accent, Ford Fiesta and the Chevy Sonic, and you'll find that the Versa wins over those autos in numerous aspects. Catch a glimpse of just a few of the reasons below.
2013 Nissan Versa Colors: Fresh Powder, Blue Onyx, Metallic Blue, Super Black, etc...
2013 Nissan Versa Body Style(s): Compact Sedan
2013 Nissan Versa MPG: 27 city / 36 highway
2013 Nissan Versa Seats: 5 passengers
2013 Nissan Versa Cargo Space: 13.8 cubic feet
2013 Nissan Versa MSRP: $11,990
2013 Nissan Versa 0-60 MPH in 11.8 seconds
Engine Specs: See What's Under the 2013 Versa's Hood
Safety Features & Nissan Warranty Facts for Owners
Maintaining Your Investment - We're Here to Help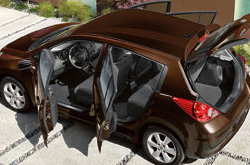 Your Nissan should be treated properly - that means Nissan factory- trained Versa technicians, authentic Nissan parts, and the peacefulness that comes from a 12-month service dealer warranty. Cerritos Nissan service and auto repair in Los Angeles is a click away! Turn to the auto repair experts in Los Angeles, Cerritos Nissan, when your Nissans takes a thrashing. In addition to tough repairs like muffler maintenance, we take on less intricate stuff like in-cabin air filter fixes - and this is only a fraction of what we handle. Also come see us for serpentine belt replacement, routine oil changes and more. Plus, Cerritos Nissan offers awesome customer service and cut-rate prices. Find current service coupons at Cerritos Nissan by clicking under this paragraph!