Welcome to Cerritos Nissan's GT-R Review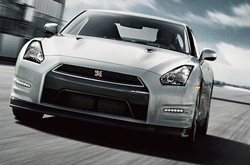 A hidden gem in the supercar segment, the Nissan GT-R may not have recognizable signature styling like its Porsche and Corvette classmates, but it is incredibly sleek, easy on the eyes and has excellent power along with endless capabilities. Tweaks to the engine in 2013 models proved beneficial, greatly increasing horsepower and torque, and taking the GT-R to a whole new level. For 2014, the sports car's mechanics have received their own set of changes, creating a ride that is both comfortable and enjoyable. A new limited Track Edition model also makes its debut with the latest editions and a Premium Interior Package offers a bit more luxury. Read on for a quick overview of the 2014 Nissan GT-R in Los Angeles, then continue below for additional details.
Available in three models, Premium, Black Edition and Track Edition, the G-TR comes with an array of features and some of its newest additions are offered in the Premium Interior Package, which spices up the supercar's cabin. The collection incorporates Red Amber accents on the steering wheel, door trim, instrument panel shift knob and armrests, giving the car a bit more flair. The front seats also receive Red Amber leather appointments and hand stitching to top off the look. Los Angeles buyers who prefer a toned-down look, but still want a hint of style, can upgrade to the Black Edition, which features a red-accented steering wheel.
If the GT-R's racing background fuels your interest in the vehicle, then you're in luck. The brand-new limited Track Edition supports high-speed driving and handles like a pro with each lap. Special brake cooling air guides, a specially tuned suspension and carbon fiber air ducts make the Track Edition's capabilities possible, while a two-person seating arrangement reduces weight. All GT-R variants are powered by a 3.8L twin turbo V-6 engine - highlighted by early 2014 Nissan GT-R reviews. Enhanced in 2013, it now delivers a whopping 545 horsepower and 436 lb.-ft. of torque. Match that with the GT-R's updated shock absorbers, springs and anti-roll bar, and you have a smooth running sports car with heavy-duty power.