Welcome to Cerritos Nissan's Leaf Review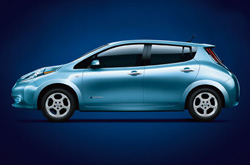 The automotive industry has expanded its outlook over the past ten years, introducing a wide array of "green" vehicles in an effort to reduce our carbon footprint. The Nissan Leaf is just one of the vehicles at the forefront of this "green" movement and its outstanding capabilities make it a top pick in its segment. An electric car with no gasoline-fueled components, the Leaf offers significant power, advanced options and a few updated features for 2014. Its aim toward innovation supports its legacy and keeps the eco-friendly vehicle ahead of the curve. Read on for a brief summary of the 2014 Nissan Leaf in Los Angeles, then scroll down for additional information on its specs.
Outfitted with a 24 kWh lithium-ion battery and an 80kW AC synchronous motor, the 2014 Leaf is able to deliver 107 horsepower and can reach up to 90 mph. A 220V standard charger can be used to charge the car's battery by connecting the 110-volt charging cord to the front port, but if you'd like to speed up the process, it's recommended you opt for the 6.6kW onboard charger, which drops the charging time down to only four hours. When considering to buy an electric car, many buyers worry about the vehicle's travel range and whether or not it will be able to make it to work and back during their daily commute. However, with the Nissan Leaf's available Quick Charge Port, all of these worries can be put to rest. By hooking up the car to a public charging station using this unique port, you can receive an 80 percent in 30 minutes and be on your way in no time.
For 2014, the Leaf has revised its equipment, adding a rearview camera to its standard list of amenities across all models and updating EV-IT capabilities, integrating SMS readout and voice destination entry within their system. In addition to the fresh features, the compact hatchback also offers options such as navigation, Eco route, Google Places, Pandora and LED headlamps, noted features in many 2014 Nissan Leaf reviews and appealing to buyers.