Check Out the New 2014 NV Cargo From Cerritos Nissan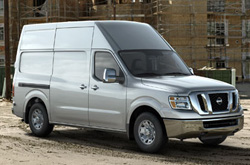 Introduced to the U.S. market just two years ago, Nissan's lineup of commercial vehicles has infiltrated the automotive industry, providing buyers with capabilities that suit different needs and wants. The four-model roster, which includes the NV Cargo, NV Passenger, NV200 Cargo and NV200 Taxi, is back for 2014 with the same winning features and a few new standards that strengthen the NV nameplate, and its reputation. The models' versatile components and mission to serve both small and large demands make the NV a perfect selection for a myriad of shoppers.
The Nissan NV200 Compact Cargo and Taxi are the only two variants that are complete carryovers for 2014. Small in size to suit buyers who don't need the extra room provided in NV Cargo models, the Compact Cargo is almost 5 feet shorter than its large counterpart and offers 122.7 cubic feet of cargo space. With an array of available amenities such as Bluetooth hands-free calling, a rearview camera and NissanConnectSM, the van can handle a variety of duties. However, its functionality blooms with its center console, which provides storage for files, a laptop and pens, and its foldable passenger seat, which easily transforms into a worktable. The NV200 Taxi edition comes with its own set of commodities, including a transparent roof, sliding doors, grab handles and a power outlet for passengers to charge their phones and laptops.
For Los Angeles buyers who require ample space for storing and transporting equipment, the NV Cargo is the way to go. It offers great space and comes in a standard and high roof layout, with the taller preference containing overhead storage - praised in many 2014 Nissan NV reviews. The NV Passenger version provides extra seating for 12 and both models come with new standards for 2014. These include pre-wiring for a brake controller/seven-pin connector, a Class-IV receiver hitch, Tow Mode A/T and a heavy-duty battery.
To discover additional information on the 2014 Nissan NV in Los Angeles, scroll down below.