Take a Look Los Angeles Nissan Shoppers - the Pathfinder has Arrived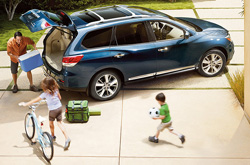 The Nissan Pathfinder made its original debut in 1986 and grew to become one of the nameplate's most successful models. Starting out as a compact SUV, the Pathfinder evolved throughout the years, changing its dynamics, and now sits on the market as a mid-size crossover. Its current luxurious look, which was introduced just last year, helped rebuild the crossover's fanbase and is just one of the reasons why buyers continue to choose it over the competition. Entering into 2014, Nissan offers a brand-new SL Tech Package in the Pathfinder and launches a hybrid alternative for eco-friendly buyers who want to maintain a "green" lifestyle. These changes, along with those made in 2013 models, increase the crossover's appeal and capabilities.
Equipped to provide optimal fuel economy, the Pathfinder Hybrid comes outfitted with a 15kW electric motor, a lithium-ion battery and a supercharged 2.5L four-cylinder powertrain - highlighted in 2014 Nissan Pathfinder reviews. Delivering 250 net horsepower and 243 lb.-ft. of torque, the hybrid is speedy and works with a Nissan Intelligent Dual Clutch System to successfully shift from the electric motor to the gasoline engine. Its battery pack is also stored underneath the third-row bench in order to increase space within the cabin, and its remarkable powertrain allows it to produce a 526-mile driving range. Overall, the "green" crossover comes with the same great amenities as the standard Pathfinder, proving it's a worthy addition to the Nissan lineup.
Unlike the hybrid model, the traditional 2014 Nissan Pathfinder does not come with an electric motor, but it does still offer outstanding fuel efficiency with best-in-class EPA ratings. In addition to its fuel economy, the crossover comes with a collection of advanced features and presents a fresh new SL Tech Package for 2014. Amenities include an 8-inch color touchscreen display, Bluetooth streaming audio, voice-activated navigation, a 13-speaker Bose audio system, XM NavTraffic/NavWeather and Zagat Restaurant Survey. Additional components outside of the SL package are also available on S, SV and Platinum models.
Read on below to learn more about the 2014 Nissan Pathfinder in Los Angeles.