Nissan Quest Review for 2014 Model Year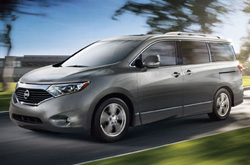 A minivan with style and grace, the Nissan Quest enters 2014 with its signature fluid design and a collection of innovative features that will leave families impressed. Two new paint options, Titanium and Gun Metallic, join the color palette for 2014 and give the minivan a fresh look, highlighting its curves and sharp, dramatic lines. Interior space also comes in abundance and technological functions available throughout the lineup enhance the overall driving experience. Complete with a high-level powertrain, the Quest offers everything you could want and more in a functional family vehicle. To learn more about the 2014 Nissan Quest in Los Angeles, read our brief overview below; then scroll down for exclusive details on its specifications.
The 2014 Nissan Quest dons a beautifully crafted exterior, but its 3.5L DOHC V-6 powertrain underneath the hood is the real star. Delivering 260 horsepower and 240 lb.-ft. of torque, the engine is reliable, powerful and, not to mention, part of Nissan's successful VQ engine series. It's built to handle day-to-day driving, lengthy commutes and comes paired with a continuously variable transmission, providing a smooth ride Los Angeles shoppers will enjoy. Topped off with sufficient EPA ratings, acknowledged by early 2014 Nissan Quest reviews, the minivan is a competitive selection in its segment.
Entering the Quest, passengers are greeted with power-sliding side doors that can be opened with a mere touch of a button. The step-in height is also lowered for convenience, allowing children to easily climb in and out of the vehicle with little help. To maximize space within the cabin, Nissan installed foldable second- and third-row seating, which provide extra room when transporting bulks of cargo. A rear storage well builds on this concept a bit further, giving buyers extra space to house in-car items. In addition to the storage features, the Quest comes with innovative safety functions, including a rearview camera and blind spot warning, designed to keep families safe and secure during their travels.