Learn More About the New Rogue From Cerritos Nissan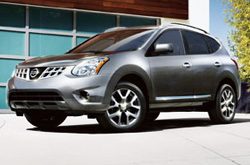 The captivating 2014 Nissan Rogue is stylish in every sense of the word, showcasing a completely fresh exterior design for the new year that trumps its past layouts. A redesigned grille sits at the forefront of the vehicle, sporting an all-black design and a bold, chrome V-shape figuration that gives the SUV a certain flair. Flowing into the grille are two new wing-shaped headlamps, producing an intense appeal, which separate the latest Rogue models from their 2013 editions. For 2014, the Rogue features an updated interior configuration, innovative storage options and countless technological functions that live up to its reputation. A success since its debut in 2008, the SUV shows no signs of slowing down.
One of the biggest highlights in the redesigned 2014 Nissan Rogue is its newly available seven-passenger seating arrangement. The configuration is made possible thanks to increased cabin space, which allows room for a third-row seat. Los Angeles buyers with large families will appreciate this option as well as the standard EZ Flex system, designed to provide additional cargo space through foldable seating. Those interested in the Rogue's two-row models receive their own set of perks with the Divide 'n Hide cargo system. Providing up to 18 configurations, the system can store a variety of items, giving backseat occupants extra room and leg space.
Aside from the Rogue's impressive layout, a list of technological features have made their way into 2014 models. Nissan's premier infotainment system, NissanConnectSM comes outfitted in the main instrument panel with navigation and NissanConnectSM Apps, a smartphone-integrated component that allows drivers to access some of their favorite apps. Safety functions such as blind spot warning and moving object detection also make an appearance, along with lane departure warning and forward collision warning, to help prevent avoidable accidents. These fresh features, admired in many 2014 Nissan Rogue reviews, take the SUV to the next level of innovation and keep buyers impressed around the globe.
To learn more about the 2014 Nissan Rogue in Los Angeles, read on below and check out exclusive photos.