About Cerritos Nissan GT-R Reviews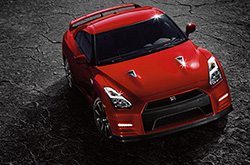 Like a fine wine, GT-R continues to get better with age. Almost every year since its arrival, Nissan has optimized the rock-star performance coupe in one way or another and 2015 is no different. In fact, with the introduction of a rambunctious GT-R NISMO model rated at 600 hp, we're sure the history books will say this was a pivotal year for the lineup.
Track tested on the Nurburgring, NISMO's advanced V-6 VR38DETT engine features high-flow turbochargers and innovative plasma-sprayed bores (rather than cast iron) to provide enhanced efficiency, power and cooling, along with reduced friction. For true driving enthusiasts, there's an optional Titanium exhaust system composed of Formula 1 racecar-grade Titanium, which is lighter in weight than the stock exhaust and better at handling high heat in extreme driving situations. In addition, with NISMO form meets function, so it gets special aerodynamic body elements that also aid performance, while looking good. If you're in search of aggressive, street-lethal performance, buy or lease a 2015 Nissan GT-R NISMO in Cerritos and you'll make heads turn wherever you travel.
Outside of NISMO's debut, other GT-R models get updates this year. Improved driving dynamics and a more upscale interior reveal the automaker's effort to make the car "more livable day-to-day," according to Car and Driver's 2015 Nissan GT-R review. The two-door supercar now offers more sophistication with a retuned suspension, recalibrated brake system, optional new 20-inch Dunlop SP Sport Maxx GT tires and Bose Active Noise Cancellation for a quieter cabin. Cosmetic changes include new carbon finish on the instrument cluster, three new interior color schemes, new HID multi-LED headlights, and an added appearance package with a carbon-fiber rear wing and decklid.
Overall, these revisions help increase comfort without sacrificing the coupe's reputation for providing hardcore performance. Visit us to test drive the new 2015 Nissan GT-R in Cerritos, Calif., and even if you don't plan on taking home the NISMO, make sure you give it a spin too! It's the most powerful GT-R grade ever and one of the fastest production cars in the world. Learn more about the lineup in the continuation of our 2015 Nissan GT-R review below.