About Cerritos Nissan Juke Reviews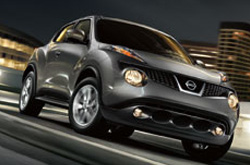 Juke isn't just for trendsetters. Beyond its funky styling, the statement-making crossover offers plenty of substance to please a variety of personalities. Some drive the 2015 Nissan Juke in Cerritos because it offers an efficient turbocharged performance that critics applaud. Others own one because they love its blend of modern tech appointments and practical utility, which is emphasized by features like the SUV's hidden cargo-floor storage space.�
This year, Juke receives new styling updates that further assert its bold character, while offering enhanced versatility. The crossover has a sportier, more premium look with new boomerang shaped head- and taillights, more prominent rear fenders and larger front wheel arches. In addition, a restyled hatch enabled designers to create 40 percent more cargo room, according to 2015 Nissan Juke reviews. Up front, shoppers will find new and upgraded electronics; NissanConnect offers improved capability, and enhanced support for smartphone connectivity means you'll have access to additional services, including new music and social media apps, as well as Google search.
If you crave an SUV even fiercer and edgier than Juke already is, come test drive the 2015 Nissan Juke NISMO in Los Angeles County. Cerritos Nissan has several on the lot and owners will tell you that it offers more bite with a specially tuned suspension, revised engine that delivers more power, and exclusive design elements like a black Alcantara leather-wrapped steering wheel and red tachometer. Furthermore, if you want to take things up yet another notch, there's the sharp-handling NISMO RS, which many 2015 Nissan Juke reviews consider the ultimate performance crossover.
With Juke, there are no compromises. It's sporty, refined, stylish, practical and so much more. For those who need an SUV with smart technology, fun-to-drive performance and a flexible interior, Juke delivers all of this in a uniquely styled package. See how it stacks up to the competition using our Dare to Compare tool below.