Cerritos Nissan Previews the New Leaf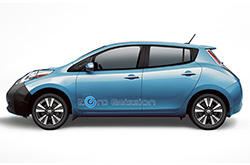 You don't have to make huge sacrifices to reduce your carbon footprint. Simply drive a 2015 Nissan LEAF in Cerritos and you'll be free to put the pedal to the metal without feeling any mpg remorse. Whether you're an environmentalist or budget-focused driver who's tired of frequent gas station visits, LEAF offers low-emissions performance and "a quiet, smooth ride for only pennies per mile," according to Car Connection.
The 100-percent electric and 100-percent fun EV makes being green a cinch. In fact, we think if Kermit the Frog were to write "Bein' Green" today, it might be an ode to the LEAF, which features innovative lithium-ion battery and electric-motor technology to provide up to 126 MPGe city. 2015 Nissan LEAF reviews also point out perks like HOV lane access (check local regulations) and access to public charging stations across the state. 
If you're interested in purchasing a 2015 Nissan LEAF in the Los Angeles area, visit Cerritos Nissan to browse inventory. LEAF not only delivers sustainable mobility with smart powertrain technology, but also intelligent features for a comfortable, connected commuting experience. Available trim levels include the S, SV and SL, all of which are appointed with standard amenities like heated front and rear seats, a rearview camera, satellite radio, Bluetooth hands-free phone, keyless entry/ignition and many other features.
In addition, the LEAF SV and SL are now offered with voice-to-text messaging and voice-activated navigation. Both also come with CARWINGS telematics, a useful feature that enables owners to connect with the car remotely via a smartphone or computer. With CARWINGS you can pre-set heat and A/C settings, schedule the car to charge during off-peak hours, locate nearby charging stations, view real-time range status and much more.
2015 Nissan LEAF reviewers agree that for those who want to liberate themselves from the pump, Nissan's pioneering EV remains a top vehicle choice. Purchase a new LEAF at Cerritos Nissan and you'll never have to stop for gas again.