Nissan Dealer in Cerritos Reviews the New NV Cargo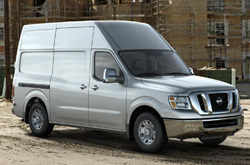 A modern offering for 21st century business owners and fleet managers, the NV Series offers the technology, utility and efficiency you require to run your company and crew efficiently. Nissan's commercial vehicle lineup features several cargo and passenger vans with a wide range of configuration options, so visit us to find the 2015 Nissan NV in Cerritos and we'll help you choose the right model for your needs!
With standard and high-roof options, a spacious back storage area, and several reinforced mounting points for upfits like racks and cargo containment units, the NV Cargo provides exceptional utility. If you have team members up to 6'3" tall, the high-roof configuration will enable them to walk right into the van without having to crouch, while 323 cubic feet of space offers plenty of room for packages, 10-foot piping, drywall sheets, tools and all sorts of cargo items. The standard roof option yields 234.1 cubic feet of max cargo space, which is also impressive, plus it can fit under your average 8'10" height clearance bar. For those with lighter duty needs, 2015 Nissan NV reviews suggest the NV200 Cargo. It may be compact, but it means business. 
Visit Cerritos Nissan to browse all of our cargo van options today, including the all-new top-tier NV Cargo SL, which debuts this year!
Furthermore, if you're looking for a versatile and reliable people carrier, the NV Passenger is perfect for work or personal needs. With 324 possible seating configurations, you'll find a setup that fits your exact requirements, and it offers the most standard airbags in its class (eight) to keep your passengers safe. Like all cargo and people-hauling models in the NV Series, the Passenger van offers America's Best Commercial Van Warranty. And to top this off, every NV has been put through its paces with 800,000 miles of reliability road testing. If that doesn't result in a job well done, we don't know what will!
Business owners can count on NV to help protect their bottom line and take on tasks in the smartest, most resourceful way possible. Visit us to browse 2015 Nissan NVs in the Los Angeles area! To see how NV compares to other commercial vehicles, check out the Dare to Compare feature at the bottom of our 2015 Nissan NV review.