Check Out the New 2016 GT-R From Cerritos Nissan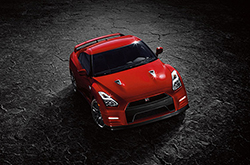 Riding into a new model year with a revamped wheel design and a special 45th anniversary Gold Edition, the 2016 Nissan GT-R in Los Angeles County proves to be an exceptional choice for performance aficionados seeking extra speed alongside luxury amenities. Whether you're looking for a supercar built for success on the track or a stylish coupe ready for tours around town, you will surely be pleased with all that the GT-R has to offer.

After taking a closer look at the cabin, many 2016 Nissan GT-R reviews were amazed by the exemplary array of standard features that make this year's sports car one of a kind. Between a navigation system with a 7-inch touchscreen monitor, push-button ignition technology, an auto-dimming inside rearview mirror, leather-appointed heated seats, a premium Bose audio system with Active Noise Control, DVD video playback and a top-of-the-line vehicle security system, the 2016 Nissan GT-R has it all.
Buyers of the 2016 Nissan GT-R in Los Angeles County will also be thrilled to know that the interior quality transpires into a phenomenal exterior shell. From the body-color rear spoiler built for aerodynamic down force and new 20-spoke 20-inch wheels and sleek edges to a signature LED lighting system, UV-reducing solar glass, polished exhaust finishes and sloping canopy, the GT-R is a clear performer built to go fast.
And, go fast it does. After all, the capable coupe is known for its "Olympian powertrain and easy-to-drive nature" according to Edmunds' 2016 Nissan GT-R review. While all models are equipped with a 3.8L V6 and boast a top speed of 196 mph, buyers have two options to choose from: the 545-horsepower Premium and Black Edition trims or the elite 600-horsepower NISMO. Equipped with carbon-fiber accents, special suspension tuning and aerodynamically optimized accents, the GT-R NISMO is a sure choice for performance car enthusiasts craving an elite racer from the bottom up.
Enhanced with the daily driver in mind, all GT-R models offer 23 mpg on the highway, meaning no LA traffic is too daunting for this flawless sports car. Plus, an exclusive Gold Edition is available this year with an impeccable gold finish and a commemorative plaque to celebrate 45 years of GT-R excellence.
Available today in Cerritos, the 2016 Nissan GT-R is an immaculate rider that you'll proudly flaunt while cruising on the highway, touring through town or accelerating quickly on the track.