Nissan Juke Review for 2016 Model Year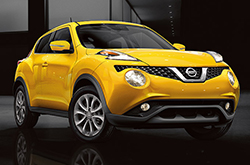 Juke's expressive style makes a strong statement; one that says it's okay to be different and that you're not anonymous. This is taken even further with Color Studio, a unique personalization program that gives shoppers the ability to colorize their rides. Available on new 2016 Nissan Jukes in Cerritos, California, Color Studio enables you to choose several OEM Nissan accessories in six exclusive colors. The cost of accessories and installation can be rolled into vehicle payments for your convenience.
Colors include Red, Orange, White, Black, Black-Purple and Carbon Fiber Look, and just a few of the accessories that you can colorize include the rear roof spoiler, wheel center caps, door handle covers, floor mats, speaker rings and interior trim appliques. As you may know, 2016 Nissan Juke reviews say the SUV's already got eye-catching style, but Color Studio provides an opportunity for you to give it a personalized touch that'll make it even more striking to look at.
Also available, brand-new 2016 Nissan Juke SV Stinger Editions debut this year in two iterations: Yellow Stinger and Black Stinger. Both feature vivid yellow interior elements, blacked-out 17-inch alloy wheels, and a painted (in yellow or black) rear spoiler, door handles and outside mirrors.
Aside from special editions and specially accessorized variants, standard Juke models offer the same one-of-a-kind styling as last year, along with the same great features and performance. When you're shopping for a 2016 Nissan Juke in Los Angeles County, you can choose from S, SV, SL, NISMO and NISMO RS trim levels, all of which feature a rearview camera, Bluetooth connectivity, hands-free texting, cruise control, keyless entry/ignition and several other desirable amenities.
Performance is multifaceted, varying depending on the mode you select. Eco adjusts performance to maximize fuel economy, while Sport mode provides a more lively driving experience. Most every 2016 Nissan Juke in Cerritos comes with a  turbocharged 1.6-liter inline four-cylinder engine that produces 188 hp and 177 pound-feet of torque, so there's plenty of power to take advantage of when you're not in Eco mode. If you're looking for a really sporty performance, however, the FWD Juke NISMO RS gets an upgraded version of the four-cylinder that pumps out 215 hp and 210 pound-feet of torque (ratings vary only slightly with AWD).
If you purchase a 2016 Nissan Juke NIMSO in Los Angeles County, you'll also benefit from performance features like summer tires, firmer suspension turning and a limited-slip differential. NISMO RS models build on this with larger brakes, an even more aggressively tuned suspension, sport-tuned steering and the higher-output engine just mentioned.
After reading Cerritos Nissan's 2016 Nissan Juke review, call to schedule an appointment for a test drive.