Nissan Dealer in Cerritos Reviews the New NV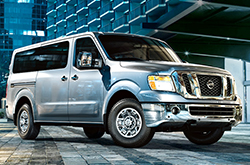 The NV Cargo, NV Passenger and NV200 Compact Cargo vans all deliver the goods, utilizing capable engines, smart dashboard features and intelligently designed, configurable interiors. If you want a commercial van that's built to last, as well as one that'll work hard for your business, choosing an NV is a solid decision. Read Cerritos Nissan's complete 2016 Nissan NV review for details about the lineup.
The full-size cargo model is an excellent choice for businesses that need a heavy-duty hauler. It features a long, wide floor and offers between 234 to 323 cubic feet of cargo space depending on the selected grade and configuration. A standard and high roof are available, along with a 261-horsepower V6 engine or 317-horsepower V8. If you purchase a 2016 Nissan NV in Cerritos, California, you can choose from three grades: 1500, 2500 and 3500. All grades offer S and SV trim levels, with amenities such as a trip computer, air conditioning, water-repellent upholstery, an AM/FM/CD audio system and variable intermittent wipers. NV 2500 and 3500 editions also offer SL trim levels, which get a security system, front parking sensors and exterior chrome accents.
If you're shopping for work vans in Los Angeles County, but specialize in people hauling rather than cargo hauling, the 2016 NV Passenger is the right selection for your needs. It offers 324 seating configurations, two engine options (same as cargo), and numerous convenience features. The passenger variant is available in one grade, 3500, which can be had in S, SV and SL trim levels just like the cargo van.
The final model in the lineup is the compact NV200 Cargo. An excellent work van for LA business owners who need something a little more compact, the NV200 minivan will fit into those tight city parking spots, save you money with an economical four-cylinder engine, and offer just the right amount of cargo room that you need, with 122.7 cubic feet of space.
If you're interested in purchasing a 2016 Nissan NV in Cerritos, please call or visit us during business hours for more details about models and information regarding financial incentives that you might be eligible to receive. See the Dare to Compare tool at the bottom of our 2016 Nissan NV review to find out how the van compares to competitors.