Not sure when you last had your car battery serviced? Then it might be time to bring your vehicle in for a car battery replacement at our auto shop in the LA area. We offer great sales on Nissan batteries, including electric car batteries for the LEAF. Schedule an appointment today!
Is My Car Battery Dead?
It's very common to mistake a dead battery for a dead starter or problematic alternator. It's best to have a professional technician take a look to determine the exact cause, but here are a few signs that it's most likely the battery.
In addition to my engine not turning over, my car lights aren't turning on either
My car won't turn on, but the engine is cranking
My battery is old (over 3 years)
My check engine or battery warning light was on recently
There's corrosion around my battery terminals
The battery appears to be swollen
My Car Battery Looks Bloated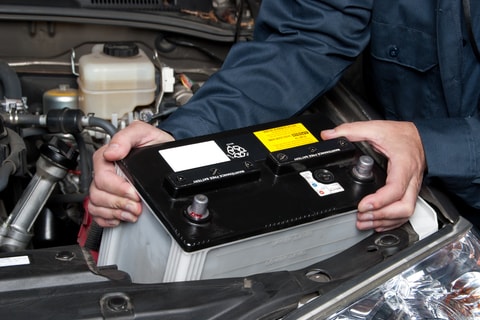 If there is any bloat occurring at all, visit us for a car battery replacement in Los Angeles County. Battery bloat is usually due to heat exposure, sometimes from severe weather and sometimes from issues with other parts or electronics causing a battery to over charge.
We have new car batteries for sale in Cerritos at competitively low prices, so if you need a Rogue, Murano, Titan or Nissan Altima battery, make sure you get a quote from us before choosing anyone else to shop with.
My Battery Terminals Look Corroded
Corrosion minimizes the life of car batteries, so have yours regularly cleaned. When you visit our Los Angeles-area car battery shop for service, our technicians will not only clean your Nissan battery but also apply a protectant and make sure the battery is properly charged.
My Battery Drained Abnormally Fast
If your Nissan battery is less than three years old and it's already starting to lose capacity, there may be a parasitic drain issue at hand. From a short circuit to overrunning accessories, like a trunk or hood light, a trained technician can identify if there's a part that may be diminishing your battery power much faster than normal.
Car Battery Replacement Near Me
Compared to AutoZone, Midas and even Walmart, you may be surprised at just how competitive our prices are. When looking up new car batteries for sale in LA, bring your Nissan to our shop to receive great deals on service and an exceptional no-hassle experience. From regular to hybrid and electric car battery sales, we have what you're looking for!