Signs That You Need New Tires
At our tire shop in Los Angeles County, we always stress the importance of tire care to our customers. Tires play a huge role in your safety, so it's very important to make sure they're in good condition.
If you take a look at your tires and the tread appears to be at or below 2/32" (or 1/16"), they need to be replaced. Along with new Nissan tires, our service center can assist drivers with getting properly sized tires for any make and model.
Cracking is another common sign that your tires need some attention. Have a professional examine them to determine whether the cracks are superficial (only on the surface) or penetrating far into the rubber.
Have you recently run over a pothole or protrusion in the road? You may get a tire bulge or bubble, which means that the tire is in danger of blowing out. The bubble represents an air leak due to damage on the inside of the tire.
Signs That Your Tires Are Misaligned
The steering wheel looks off center even though the car is driving straight.
In a safe location, drive straight and let go of the steering wheel for one second. If the car drifts to the left or right, it may indicate that you need a tire alignment.
Your tires have uneven tread wear.
In addition, keep in mind that it's not always obvious when a car's wheels are misaligned, but any deviation from manufacturer specification can shorten the life of tires. If you think you need wheel alignment service in Los Angeles County, our pros can help. Check our service specials to see if we have any Nissan tire repair coupons before you visit.
When to Align, Rotate & Balance Tires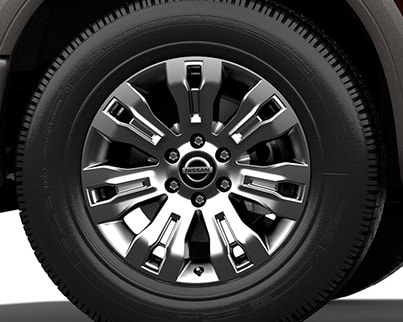 Front-end alignment is always a good idea when getting new tires; also alignment should be professionally checked twice a year. Tire rotations are recommended roughly every six months to help slow down tread wear, and we advise having your wheels balanced at the same time as your rotations. Furthermore, do a visual check of your tire tread and tire pressure monthly, as well as before heading out on any road trips.
Tire Repair Shop Near Me
Our tire shop in Los Angeles County is at your disposal for all wheel and tire services. Before you go to a Pep Boys, Big O Tires or another local tire shop in LA, contact us to check prices. Whether you're looking for sales on summer tires, all-terrain tires or anything in between, we can assist you!