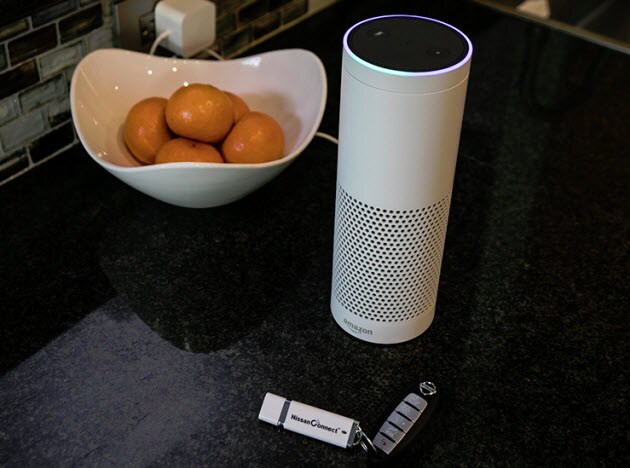 Now you don't have to hunt down your key fob or smartphone to remote start your car. With select Nissan models, you can simply tell your Amazon Alexa device to handle the job for you. Powered by NissanConnect Services, this new Alexa skill makes it easy for drivers to interact with their cars from a home or office.
See which models the feature is available on and commands that you can give Alexa below!
Alexa can do more than just remote start your car. Many of the remote commands you have access to with NissanConnect Services are included. So, you can have Alexa do the following as well:
Remote lock or unlock the car
Honk the horn
Flash the lights
Start or stop the engine
Using Alexa to perform these tasks is completely free. You just need to have an active NissanConnect Services subscription as well as a Nissan Owner Portal account. The app doesn't even need to be on in order for the Amazon Alexa integration to work.
How to Use Nissan Amazon Alexa Commands
Once you give a command (try one of the examples below), Alexa will confirm and give the request to your vehicle. For remote start and other select commands, you'll need to give Alexa a four-digit pin for security purposes.
Alexa, ask NissanConnect Services to start my Altima.
Alexa, ask NissanConnect Services to unlock the doors on my Pathfinder.
Alexa, ask NissanConnect Services to lock the doors on my Rogue.
What Nissan Models Can Be Talked to by Amazon Alexa?
Nissan models with NissanConnect Services' Amazon Alexa integration currently include:
Nissan Altima - 2016, 2017 & 2017.5
Nissan Armada - 2018
Nissan GT-R - 2017
Nissan Maxima - 2016 & 2017
Nissan Murano - 2017.5
Nissan Pathfinder - 2017 & 2018
Nissan Rogue - 2016 & 2017
Nissan Rogue Sport - 2017
And, as more new models arrive to dealerships, this list will grow!