Check Out the New 2013 GT-R From Cerritos Nissan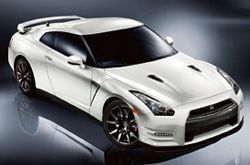 2013 Nissan GT-R research and review from Cerritos Nissan, The trusted resource. Good GT-R reviews are hard to find; let the dominant Nissan retailer in Los Angeles put it all in one location for you. As you read this article, you'll see that it is loaded with important data on all of the things you'r looking for in the new GT-R. Happy hunting!
GT-R Video Review - Specs, Features & More
2013 GT-R vs the Competition - Compare Features & Specs
Comparing the 2013 Nissan GT-R against against vehicles like the 2013 BMW M6, Porsche 911 Carrera, Chevrolet Corvette Z06 and the Audi RS 5, and you will realize that the 2013 GT-R transcends the competition in various areas. Scan our bullets to see why!
2013 Nissan GT-R Cargo Space: 8.8 cubic feet
2013 Nissan GT-R MSRP: $96,820
2013 Nissan GT-R MPG: 16 city / 23 highway
2013 Nissan GT-R Body Style(s): Midsize Coupe
2013 Nissan GT-R 0-60 MPH in 2.8 seconds
2013 Nissan GT-R Colors: Jet Black, Solid Red, Super Silver, Pear White, etc...
2013 Nissan GT-R Seats: 4 passengers
New Features Available on the Nissan GT-R in Los Angeles
GT-R Powertrain Specs for Los Angeles Nissan Buyers
2013 GT-R Warranty & Safety Technologies
Helping You Uphold the Value & Quality of Your Investment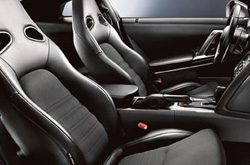 You won't get Nissan trained service techs, a full year warranty on service and accredited Nissan parts at a conglomerate auto facility in Los Angeles, so visit Cerritos Nissan instead. If you put off getting reliable repair work, your Nissan GT-R's vitality might suffer, so take it to the esteemed mechanics at Cerritos Nissan. We can take on nearly any job - from fuel filter or tire alignment and fixes to ordinary oil and filter changes; we also handle the more elaborate stuff, including Nissan muffler repairs and more. What's more, you can anticipate getting inexpensive service at our Nissan auto repair center in Los Angeles. See the link at bottom? That's your roadway to savings! Press on - click to see coupon specials.