Take a Look Los Angeles Nissan Shoppers - the 370Z has Arrived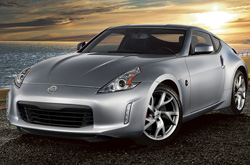 2013 Nissan 370Z research and review from Cerritos Nissan, The trusted resource. Where do we get these 370Z reviews? From premier writers in their industry. As you read this article, you'll see that it is overloaded with essential data on all of the things you'r looking for in the new 370Z. Watch the video below or skip it to get the 370Z review.
View a Walk-around Video of the 2013 Nissan 370Z
Prominent Specs for the Nissan 370Z
When comparing the 2013 Nissan 370Z side-by-side with the 2013 Dodge Challenger, Hyundai Genesis Coupe, Ford Mustang and the Chevrolet Camaro, and you'll find that the 370Z transcends those autos in oodles aspects. Pay attention to just a few of the reasons below.
2013 Nissan 370Z Body Style(s): Coupe
2013 Nissan 370Z MPG: 18 city / 26 highway
2013 Nissan 370Z Colors: Solid Red, Midnight Blue, Magnetic Black, etc...
2013 Nissan 370Z Cargo Space: 7 cubic feet
2013 Nissan 370Z 0-60 MPH in 5.1 seconds
2013 Nissan 370Z MSRP: $33,120
2013 Nissan 370Z Seats: 2 passengers
Learn About the 2013 Nissan 370Z's New Features
Learn About the 2013 370Z's Engine & Powertrain
Learn About Our Nissan Auto Repair Center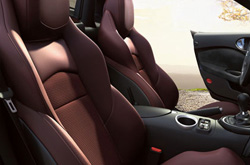 Unlike megacorp auto centers, our Los Angeles car repair facility offers trustworthy OEM parts, superb Nissan trained technicians and a full year warranty for all repairs. We're also conveniently positioned near many adjacent cities. Our Nissan auto service unit in Los Angeles is home to expert repair hot shots, so drive your 370Z over for trustworthy service. We do a diverse set of repairs, from simplistic battery replacement and routine inspections to more difficult jobs such as engine repair. What's more you can count on getting thrifty prices on all repairs, as well as great service every time you make a trip to Cerritos Nissan. The next time you make a trip to our service department, take a coupon! Proceed and click the link below this paragraph for specials.