Unlike traditional systems, Nissan's Intelligent Cruise Control automatically adjusts speed if drivers ahead of you slow down, plus it will even bring your car to a complete stop, meaning less work for you. On new Nissan models equipped with Intelligent Cruise Control (ICC), the following directions will help you activate and change system settings.
How to turn on Nissan Intelligent Cruise Control:
Press the Cruise On/Off button
The white ICC indicator will turn on
To lock in your cruise control speed, press the Coast/Set switch and release it
The ICC indicator will then turn green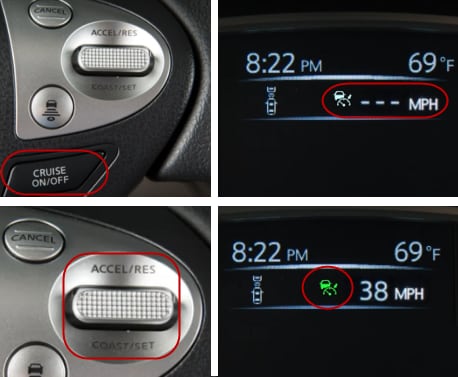 Passing a vehicle while using ICC:
Press the gas pedal to accelerate (you'll notice the ICC indicator blinking)
Once you've passed the other vehicle, take your foot off the pedal
Your Nissan will automatically return back to your set cruise control speed and the ICC indicator will stop blinking

How to increase or reduce your cruise control speed:
Push up and hold Accelerate/Resume (Accel/Res) to increase speed
Or press down and hold Coast/Set to reduce speed
Release the switch when you reach your desired speed
If you push and quickly release, each push will increase or decrease speed by 1 mph


Three ways to turn off Nissan Intelligent Cruise Control:
Press the Cancel button
Press the Cruise On/Off button
Tap brake pedal
In all three cases, you'll see the ICC indicator turn off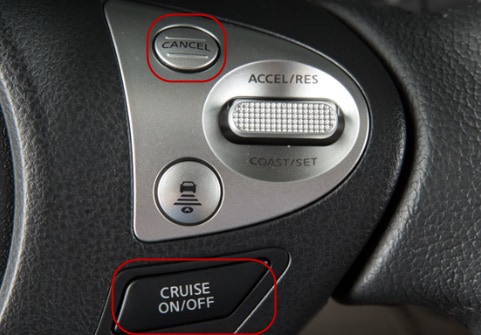 To resume cruising at your previously set speed, press up on the Accel/Res plus switch.
To change the distance between your Nissan and the vehicle ahead, press the distance switch. It will go from long to middle and short with each press.

The system works between 20-90 mph approximately.
If you are having any problems with your Nissan cruise control system that are not corrected by following the instructions above, please contact Cerritos Nissan.