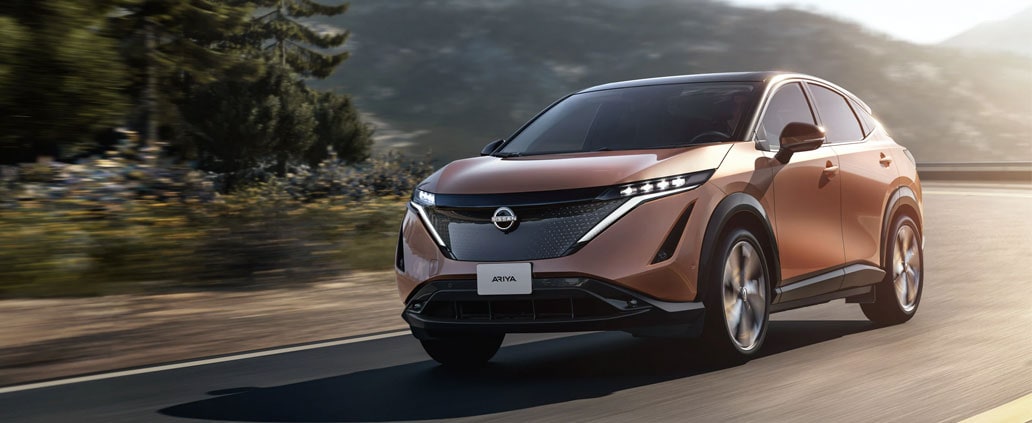 The Nissan Ariya is an all-new release for 2022. The innovative and charismatic Ariya is a crossover vehicle with an all-electric powertrain. The Ariya is projected to have a 300-mile range, facilitated by its standard 63 kWh battery. The Ariya will also have a second, longer-range 87 kWh battery. This battery is available for those who want a boost of power, performance, and efficiency. Other features await consumers with the Nissan Ariya, including a futuristic design consisting of swooping curves and intriguing contours. The Ariya also debuts a new logo for Nissan, which is equally symbolic of the brand's new approach for the 2022 model year showcasing innovation in power and a revamped design philosophy.
Historically, Nissan has championed drivetrain technology, with many of its vehicles featuring some of the smoothest and most efficient engines and transmissions in their class. With the introduction of the 2022 Ariya, Nissan takes that fame to the next level. The Ariya is available with two batteries. Depending on which one you choose, the Ariya's power output ranges from 215 HP to 389 HP, and torque output ranges from 221 LB-FT to 443 LB-FT. Front-wheel drive and all-wheel drive are both offered for the 2022 crossover. The all-wheel drive drivetrain will be electronically controlled for a precise and predictable driving experience.
The interior of the Nissan Ariya is equally appealing. Inside, you'll find some classic Nissan features that have drawn praise from critics and consumers over the years, including the brand's exclusive Zero Gravity seats. The interior of the Ariya has a modern and classy design featuring cutting-edge technology with a simple horizontal dashboard. There are two wide infotainment screens in the Nissan Ariya that are housed in a glass ribbon. The climate controls are operated by the touch of a finger for fast and predictable comfort. Wood trim accents add an element of luxury to the 2022 Ariya. The technology includes many user-friendly features such as Amazon Alexa, Apple CarPlay, and Android Auto. The navigation system is voice-controlled for safety and convenience. The Ariya is expected to have a semi-automated driving system with hands-free driving on the highway and will also be equipped with Nissan's own innovative Safety Shield 360 suite and available ProPilot 2.0 safety technologies. The ProPilot 2.0 includes blind-spot monitoring, forward collision mitigation, and lane-keep assist.
We happily welcome you to contact our Nissan dealership for additional details or to reserve the all-new Nissan Ariya today. Our representatives are happy to answer all of your questions and keep you informed on the new release.